Just-In-Time Workshop & Occasional Bookstore
38 Ludlow Street (Basement South)
New York, New York 10002
Tel +1 213 235 6296 / +1 917 741 8949
Dexter Sinister is OPEN BY APPOINTMENT Monday through Friday, 12–6pm. Or stop by, there is often someone down here.
Here are some other titles: MILK TOAST, LIP PLUMPERS, INDOOR PERSONNE ZONE, CATS, IN GENERAL, DU BUFFET, MOUNTEBANK AND MILQUETOAST, LANDS, BANDS, CARS, CHARLEMAGNE, MACROBIOTIC FOOTSTEPS, STYLE AND ART, LAZY SUSAN, DR. PEPPERS, BERNARD BUFFET, JEAN DUBUFFET, APPEARANCES, LION'S ROAR, EVERY ENDING IS A NEW BEGINNING, A TOUCH OF CLASS, DREAMWEAVERS . . . (Columbia MFA Notes) is produced to accompany the Columbia University 2009 M.F.A. Thesis Exhibition.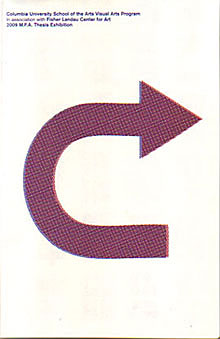 Since it has to be available at the opening, we have been trying to think of how to work around the idea of documentation. 'You can't document a thing that's not done, so instead of faking it, let's do something else.' We are honing in on the idea of simultaneous production and documentation, and what form that could take, so to that end, we'd like to request that you, in this early stage, send us your notes. Notes on production; notes towards your thesis statement; notes floating around ideas you're working through. Take this as specifically or as loosely as you'd like. Typed is great. Format is up to you. We would also like to have these by Tuesday. Perhaps we will ask you for further notes along the way, but if you could please give us something to proceed by then, that would be helpful.
Produced by Douglas Boatwright, Peter Mandradjieff, Virginia Poundstone, David Reinfurt and Erik Wysocan in the
Visual Arts Workshop
.
NOW IN STOCK / $10